Summer Wanderweg: Favorite Hiking Trails of 2018
*Updated June 2019*
*For more summer hiking, check out our 2019 Summer Wanderwegs*
It's the middle of January, and in between hibernating, experimenting with a bunch of new soup recipes and romanticizing the winter in the way only a naive (erm, I mean native) Californian can - I have started to get a tiny twinge of longing for the summer hiking season. Instead of researching new trails, though, I started to go through all the photos from last summer. During our first few months in Switzerland, we ended up throwing most of our travel plans out the window and hiked nearly every weekend until September.
Hiking in this country is a dream. Swiss scenery has a reputation that is well-deserved, and pictures rarely do it justice. But also: hikes are all easily accessible by public transit, gondolas can take you to the top of the mountain so you can do hikes along an alpine ridgeline, the trails are maintained and well-marked, there are countless pristine lakes to cool yourself off, and best of all, there is always beer at the end. (If it's still spring, check out these hikes to tide you over!)
I can't stress this enough: there are no bad hikes in Switzerland. Here are some of our favorites from the summer of 2018.
Note: All directions noted are coming from Zurich Hauptbahnhof (Zurich HB). Generally, I always wear my hiking boots, but I've noted trails that are fine with just regular running-type shoes. And my ratings? Take 'em with a grain of salt. I hike a fair bit and am generally active, but I think all of these hikes can be done by anyone with good stamina and a good attitude. For those who are new to Swiss hiking, check my Swiss Hiking 101 guide, too.
Stoos Ridgeline Hike, Schwyz, Central Switzerland
Our very first hike on our very first weekend as Zurich residents. It's starts with a ride on the steepest funicular in the world, the Stoosbahn, which climbs to a mind-boggling gradient of 110%. The cylinder-shaped train cars slowly rotate on the way up, so passengers remain completely level, even at the steepest point of the trip. If the journey up is a nod to innovative Swiss engineering, than the rest of the hike is a love letter to breathtaking Swiss views. We followed the classic ridge-line trail from Klingenstock to Fronalpstock, stunning and at times even a bit vertigo-inducing, thanks to the steep drop-offs on either side. Lakes to one end, wildflowers on the other, and mountains for 360 panoramic degrees. Welcome to Switzerland, indeed.
**Note: Stoos mountain transport one of the included bonus excursions in GA passes and the Swiss Travel Pass - so if you have one of these passes, you don't need to buy any additional tickets.
Start: Train to Schwyz Stoosbahn, then chairlift to Klingenstock Talstation. Trail begins at top of Klingenstock.

End: Trail ends at Fronalpstock. Take chairlift back down to Stoos, then Stoosbahn to Schwyz.

Basic Route: Klingenstock - Husser Stock - Panorama Trail - Fronalpstock

Length and Rating: Fairly easy. This is a ridge hike, so there are some steep drop-offs, but it's a popular trail and people of all ages are on it. 4.4km, 2 hours.
Five Lakes Hike, Pizol, Eastern Switzerland
When we were researching trails, one person called Pizol Five Lakes (aka 5 Seen Wanderung) "alpine hiking at its finest." And man, did it deliver. I still can't get the color of those tiny alpine lakes out of my mind. I didn't realize that shade of cyan could exist in nature. We started at the Pizolhütte and made our way Gaffia, the total route about 11km. The trail wound up past the treeline, through different mountain passes (a few still covered in snow in July), and even though it's officially rated as medium, it's tough if you are not in "Swiss Shape" (and we were not!).
This hike was also our first introduction to how quickly mountain weather can change, from blue skies to a squall in a matter of minutes. We were unprepared this time, and had to backtrack after the first hour due to a torrential downpour, and then restart the hike again once it had passed. The Swiss have a saying: "There is no such thing as bad weather, just bad clothes." Now, anytime we plan on hiking in the Alps, we are overly prepared.
Start: Train to Sargans, Bahnhof, then a bus to Wangs, Pizolbahn.

End: Trail ends at Gaffia. Take Gaffia and Furt chairlifts to Pizolbahn, bus to Sargans Bahnhof.

Basic Route: Pizolhütte - Wildsee - Schottensee - Schwarzesee - Baschalvasee - Gaffia

Length and Rating: Moderately difficult. Not technical, but lots of steep ascents and descents. Check conditions if hiking in early July. 11km, 4.5 hours.
Seven Peak Views, Flumserberg, Eastern Switzerland
Seven peaks, fourteen lakes, thousands of wildflowers, a whole lotta cows and cowbells, and best of all - hardly any people for the bulk of it! Maybe the word hasn't gotten out about this hike. Flumserberg is well-known as the closest ski resort to Zurich, so perhaps most people associate it with the winter season. In fact, the train station (Tannenboden) and gondola/chairlift station are one and the same, so most people wear their ski gear on the train and then just hop right onto the slopes. In any case, we went in the height of summer and had large stretches of the trail all to ourselves. It was spectacular, particularly with the views of the mountains over Walensee, the steep cliffs of the Churfisten range plunging straight down to the turquoise water. Each of the seven peaks required it own thigh-burner ascent and knee-busting descent, meaning it was beautiful but equally demanding.
Beer at the end of this sweaty hike was a given, but on the gondola ride back down, Walensee's water shimmering like it was full of Swarovski crystals, we made a split-second decision. The train station, we realized, is directly across the street from lake. We ripped off our clothes in the gondola (a decidedly un-Swiss thing to do), changed into bathing suits (which we had because remember what I said about being prepared for anything?), and ran past families on the beach to jump into that sweet, cool water. Highly, highly recommended.
**NOTE: For Summer 2019, the cable car isn't running all the way up to Maschgenkamm. You will need to start the hike from Prodkamm mountain station. Additional time approx. 45 min. / 1km.
Start: Train to Unterterzen, cross street to Tannenbodenalp (Bergstation), cable car to Maschgenkamm

End: Trail ends atTannenbodenalp, take cable car back down to Unterterzen.

Basic Route: Maschgenkamm – Ziger – Leist – Rainissalts – Gulmen – Cuncels – Chli Güseln – Gross Güslen – Seebenalp – Winkelzahn – Tannenboden

Length and Rating: Moderate. Not technical, but long. Bring your stamina! 15km, 6 hours.
Schynige Platte to Grindelwald First, Jungfrau region
The hike that brought me to tears.
There is so much more to cover about this hike: the classic red and gold Schynige Platte cogwheel train that ever-so-slowly winds it way up the mountain, the unobstructed views of the impossibly-blue Lake Thun and Lake Brienz, the way the trail started out completely sheathed in fog and then the peaks slowly revealed themselves over the 6 hours whisp by whisp. It was long and strenuous, and at certain points, the wind so bitingly cold it felt like my face was being jabbed with a million invisible pins.
But then there is one point when you are at the top, and you're alone, and the Alps are just…there. Right there in front of you. The Eiger, the Mönch, the Jungfrau, those three famous brethren looming with their immensity and fierce beauty. It's overwhelming, it's majestic, it's a sight that brings you to your knees, and for me, tears to my eyes.
Start: Train to Wilderswil Bahnhof, cogwheel train to Schynige Platte summit station

End: Trail ends at First, then gondola to Grindelwald.

Basic Route: Schynige Platte - Oberberg - Loucherhorn - Egg - Faulhorn - Bachalpsee - First

Length and Rating: Challenging. This is categorized as a "blue-white-blue" mountain trail, meaning you should have proper hiking gear (boots, pools, etc) and have hiking experience. 16km, 6 hours.
Brienzer Rothorn Ridge Trail, Bernese Oberland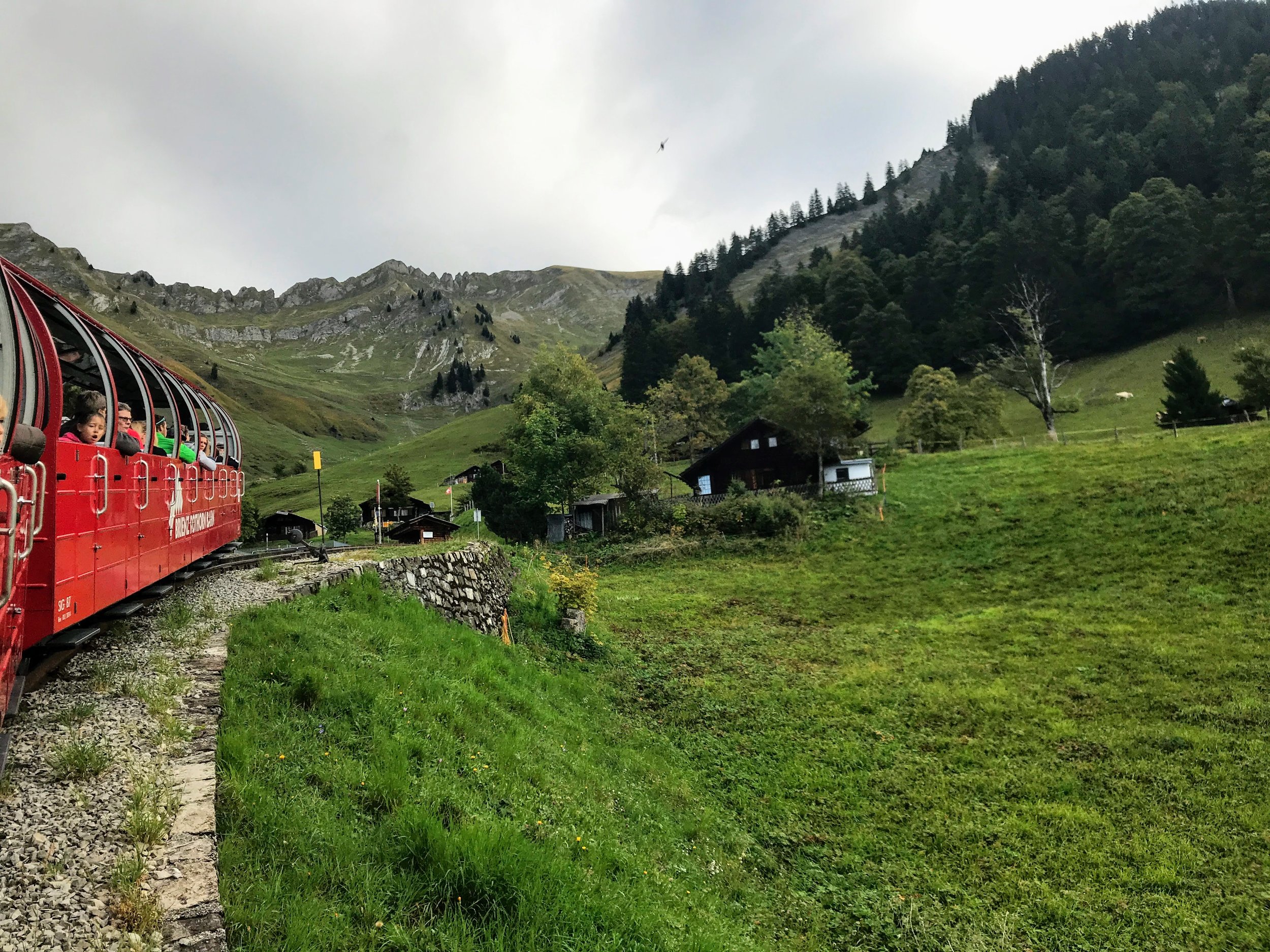 It turns out, even with Swiss signage, it's still possible to get lost. And get lost we did on this trail. First, though, we need to talk about Lake Brienz. LOOK at the color of that lake. It has ruined all other lakes and all other blues for me. I've dubbed it the Brienz Blue, because a color as vibrant and alive as this needs an award, but at the very least it's own name. But onto the hike itself. It starts with a ride on the downright adorable steam-engine train, that Raunaq, ever the train enthusiast, was very excited about. The narrow trail cuts along the ridge and into the rock, with Brienz on one side and the plains and valleys on the other. Ridge-hikes like these are so difficult to try to capture on camera, because you literally have stunning views everywhere you turn.
I have no idea how we got lost, we must have missed a sign somewhere, but we went much, much further than intended. And after crossing a point of no return (a particularly scary bit of exposed trail that just barely hugged the side of the mountain), there was no turning around to double-check. We continued on, finally found a hut to ask directions, and ended up in the lovely little town of Lugern, which had - you guessed it - beer and a train to get us home. I love this country.
Start: Brienz Bahnhof, then cogwheel train to Brienzer Rothorn

End: Trail ends at Turren, then cable car to Lungern.

Basic Route: Rothorn upper station - Schönbüel - Turren.

Rating: Moderately difficult. Some of the ridgeline is narrow, with steep drop-offs and a couple ascents/descents. 11km, 4-5 hours.
Rigi Kulm to Vitznau, Mt. Rigi, Central Switzerland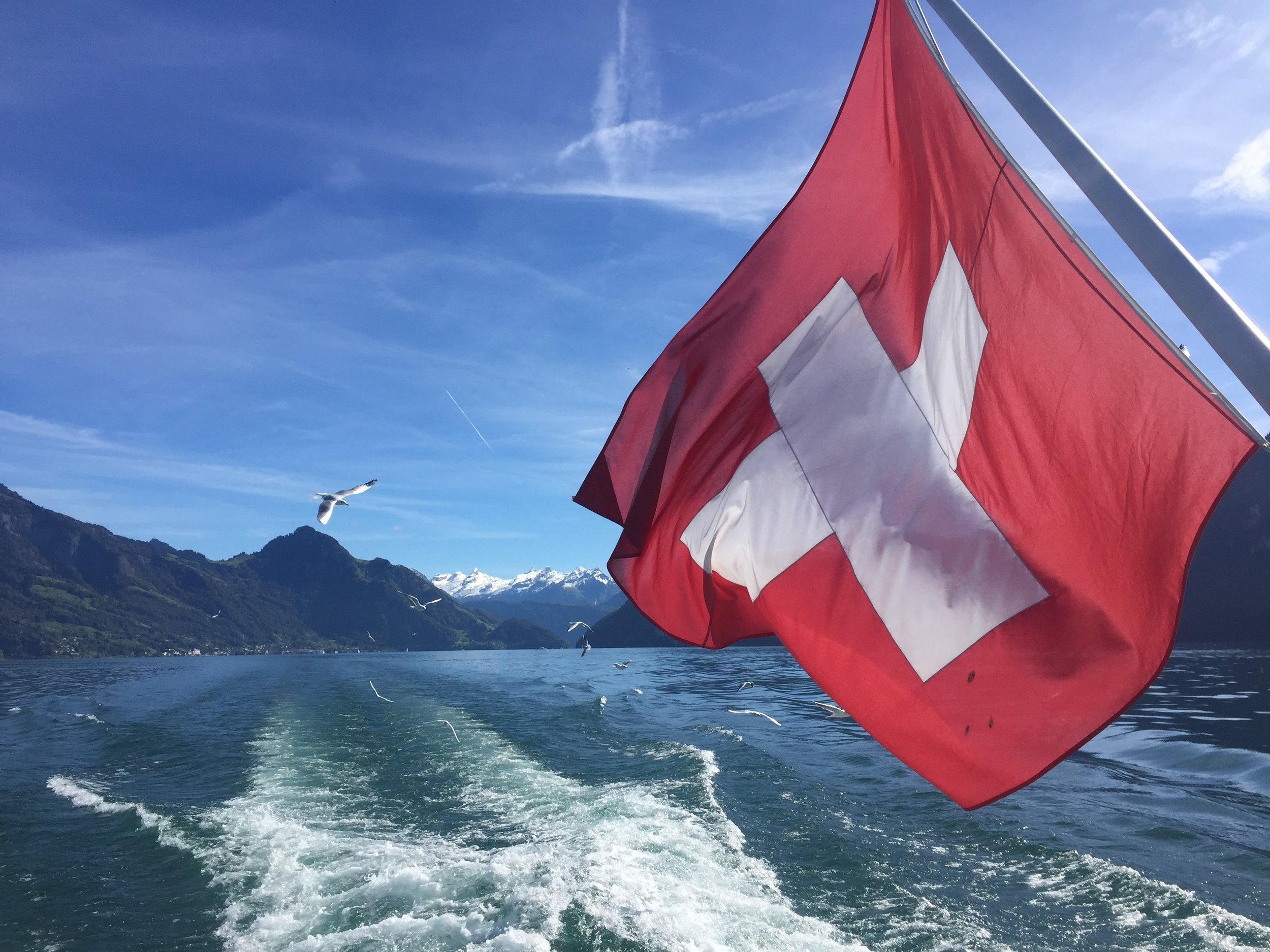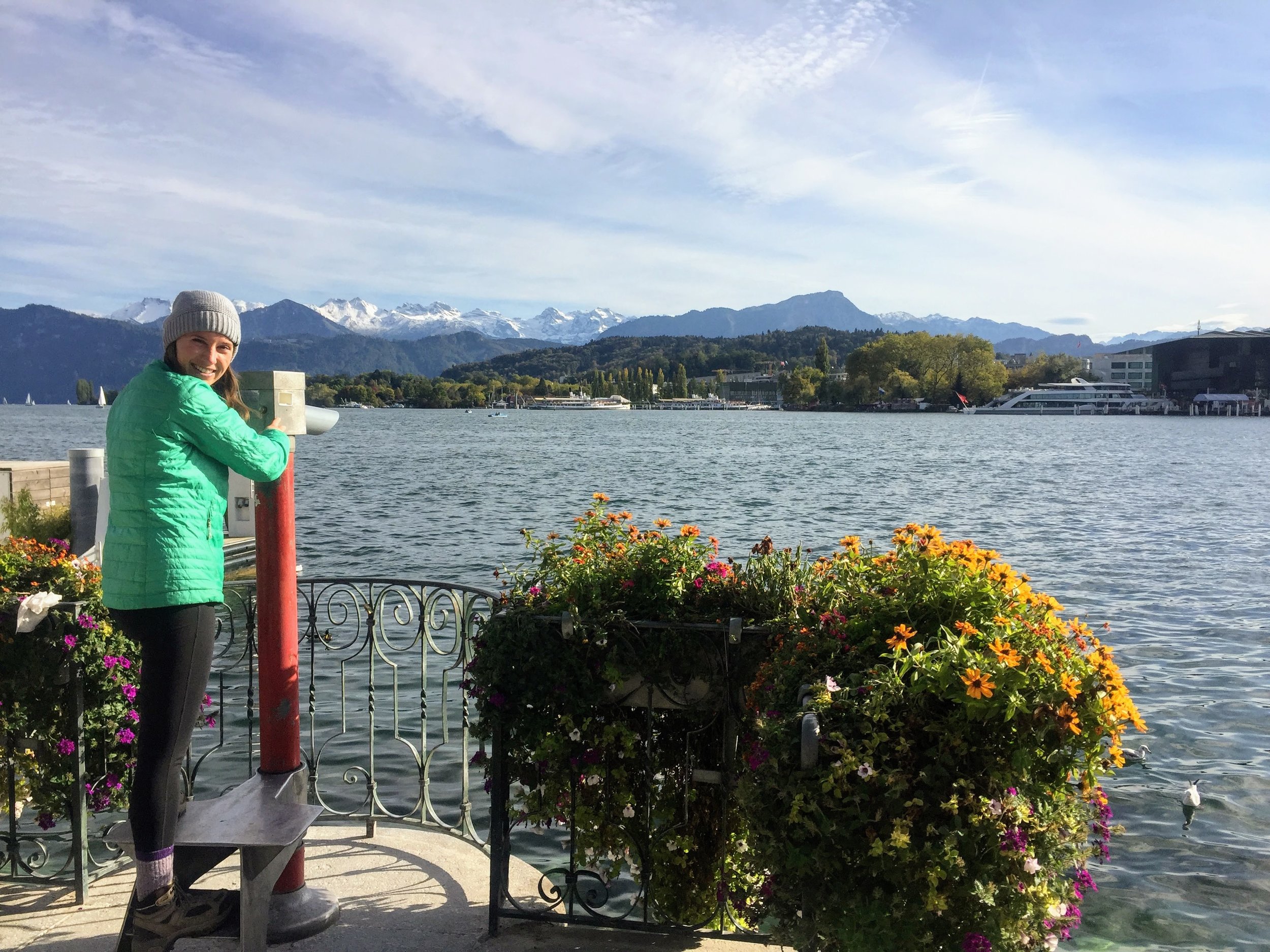 While I'm keeping this in the "summer hike" section, we actually did this hike in October. In fact, before we even moved to Switzerland. I credit this hike with ultimately convincing me. It starts with a ride on the world's most charming mountain train, the Rigi Bahn, to the top of Rigi-Kulm, the Queen of the Mountains herself. Take in the spectacular sight, and then, leave all the crowds behind for one long leisurely descent to Vitznau. It may be all descent, but it's not a cakewalk. No matter how you slice it, 1350 meters in elevation gain or loss is tough on the legs, whether it is your burning thighs on the way up or your aching knees on the way down. I'd recommend hiking poles if you have them, and sturdy hiking boots as well. Good news is that there is opportunity to stop for a "photo" (rest your legs) about every 20 minutes. The trail winds through forests, small hamlets and cow pastures, with panoramas of Lake Lucern and the surrounding Alp landscape the whole time. To make it a full, lovely day, take the ferry from Vitznau to Lucern. And once you feel it up to, you can try the Mark Twain Trail, which is essentially this hike is reverse!
Start: Arth-Goldnau Bahnhof, Rigibahn to Rigi-Kulm

End: Vitznau, ferry to Lucern

Basic Route: Rigi Kulm - Rigi Kaltbad - First - Freibergen - Vitznau

Rating: Moderate. From this direction, it is essentially entirely descent. Not challenging physically, but extremely tough on knees.
Creux-du-Van, Noiraigue, Northwestern Switzerland
The Creux du Van is a giant, gaping hole in the ground, with sheer limestone cliffs shooting straight down 160 meters. It looks like one day, someone decided to reach down from the sky and scoop out the side of the earth. So different from what you come to expect from a typical Swiss hike, with their snow-capped mountain ranges and icy blue alpine lakes. We also had our first wild animal sighting, a small group of Ibex, which are a sort of Swiss mountain goat with impressive curled antlers and are much better suited to the sheer cliffs than us humans. I wrote a more in-depth account of the hike to the Creux-du-Van, and our absinthe adventures in the entire region, here.
Start and End: Noiraigue Bahnhof

Basic Route: Noiraigue - Ferme Robert - Les Oeuillons - Le Soliat - La Grand Vy - Pré au Favre - Ferme Robert - Noiraigue

Length and Rating: Fairly easy. 14km, 4 hours.
Now that these mountains are more or less closed for the season (or transformed into ski slopes), we've been getting our outdoor fix on lower-altitude hikes. Most often, I find myself hiking up Uetliberg, the little mountain in Zurich, especially on a rare clear day to take advantage of the views. We'll get in our fair share of winter walks, snowshoeing, sledding, maybe even igloo-building (stay tuned!) this season, and I'm excited to see our summer destinations covered in snow. But that tiny part of me is eagerly waiting for the day I can dust off my hiking boots and get back out there.
*Final note: I'm terrible at giving detailed guides and/or logistics for hikes. If you live in or are traveling to Switzerland and want to supplement with a practical hiking resource, I also highly recommend Swiss Family Fun. Even if you want to do harder trails than what she suggests, which we did most of the time, her blog gives exact details on how to get to a particular region and what to expect once you get there.*