A City in the Alps: Innsbruck, Austria
From here on out, whenever I hear the phrase, "a city nestled in the Alps," I will always think of Innsbruck. It's a description I see a lot, mostly in travel writing, especially in articles about Switzerland or Austria. But if there was ever a place that accurately embodies these words, Innsbruck is it.
It's truly a city, not a town or village or tiny mountain-side hamlet. It's living and breathing, with a decently-sized train station and an airport, even an alpine zoo. It's got a famous palace and a triumphal arch, but also, university nightlife and craft beer bars and Himalayan food and quite possibly the oddest spring snow sport I've ever seen. It's the capital of the Austrian Tyrol region and surrounded by mountains. Innsbruck, a city nestled in the Alps.
I can't believe it took Raunaq and I so long to make our way to Austria. As a weekend trip from Zurich, this might have been the easiest yet.
The Ins and Outs of Innsbruck
First up was the downright delightful train ride. The OEBB (Austrian train network) almost surpassed SBB as my favorite railway system. Seats were spacious and comfortable, there was free wifi that was fairly reliable throughout the entire journey, beverage service if you didn't feel like making your way to the dining car, and seriously stunning views the entire way. As an unexpected bonus, this specific route goes past Walensee and the Churfirsten mountain range, one of my absolute favorite areas of Switzerland. A hidden gem of a railway. We passed through the micronation of Liechtenstein and chugged along the rolling hills of East Austria, some green and some covered with a dusting of spring snow. It's a direct ride from Zurich HB to Innsbruck main station, and the three and half hours really do fly by. Easy peasy.
Innsbruck itself is a small and walkable city, with the old town only about 10-15 minute walk from the train station and the mountains, of course, right there before you.
We arrived early evening on Friday, still in a little bit of shock at how perfectly uncomplicated the train ride had been. The clouds were just clearing up, and we got our first glimpse of the Tyrolean Alps. Innsbruck's setting is truly spectacular. The craggy granite cliffs of the Nordkette mountains rise above the colorful city, not in an imposing way, but in an inviting one. Begging to be climbed and explored. And as if the city understood the call, they built a funicular and gondola system that shuttles you to the very top, right from the center of Innsbruck.
There was about an hour of sunlight left in the day, so Raunaq and I quickly dropped our backpacks at the hotel and set off to explore. We passed through the Triumphal Arch, which is a stunning piece of architecture and the best way to officially enter the city, the way the Austrian Empire intended. Through the archway, you get a glimpse of the old town, the mossy green spire of the Wilten Abbey church, and then the mountains beyond, all perfectly framed in the stone curve. It was built in 1765 to commemorate the wedding of Archduke Leopold and the Spanish Princess, Maria Luisa. But because Leopold's father died unexpectedly during the celebrations, a memorial motif was worked up on one side. Celebratory on the south side, a tribute on the north.
The architecture of Innsbruck reminded me a bit of Prague - romantic and intricate Baroque and Gothic buildings - but with a different vivid radiance. A colorful kaleidoscope of mint green, dusty rose, burnt orange, shades of yellow and cream. Hues you think would clash, but all manage to meld together in a type of Austrian harmony. The jewel of the city is the Imperial Palace (the Hofburg), known for its frescoes, lavish interiors and glimpse into the lifestyles of the 16th-century rich and famous.
More striking to me, though, were the river houses, a famous sight in itself, albeit less historic. The setting couldn't be more perfectly composed: below the houses, the churning, milky green waters of the Inn River, above the houses, a treeline that gives way to the snow-capped peaks of the Tyrolean Alps. The houses themselves are neatly lined up in a row, each one a different color, unique yet somehow coordinated. The Painted Ladies of Austria. We managed to find our way back to the vantage point at Marktplatz every day that weekend, and they were beautiful in every type of light.
And then there are the mountains. You can't escape the mountains in Innsbruck. There was something quite incredible about turning a corner, or emerging from under an arched tunnel, and being awestruck, again and again, by the mountains. I couldn't forget they were there, but also, I couldn't help but be amazed each time I stumbled across the sight. We were so lucky with the good weather, and with clear skies all weekend, I consistently felt like I was seeing the mountains for the first time, every time. They are mesmerizing.
Austrian Delights
Raunaq has a sixth sense - he can sniff out an Augustiner brewery anywhere. So unsurprisingly, once the sun went down Friday night we found ourselves at Stifskeller, a beerhall and restaurant that served our beloved Edelstoff. One pint here, and then the next at Tribaun, an underground, cave-like craft beer bar that served deliciously unique blends like black stout IPAs and strong Austrian-style Weizenbocks. A couple beers later, we managed to stumble across the street to Ludwig for dinner. Their version of a veggie burger was a fat patty made with a winning trifecta of quinoa, broccoli, and melty gouda cheese. No complaints about that here. We closed the place down, and I discovered the new title for my memoir: "Bitter Beers for Happy People."
And because it would almost sinful to not take full advantage of the Augustiner, we ended the night back where we started. The waitress at Stifskeller was the same from earlier, and recognized us. "Zwei Edelstoff?" she asked us with a knowing grin right as we sat down. We've become far too predictable. The next day was rough - but for Augustiner, worth the pain.
It was an easy decision to pass over the traditional schnitzel and sausages - obvious reasons for me (pescatarian), and for Raunaq, because these dishes are something we could just as easily get in Switzerland - and instead opted for the Austrian sweets. Specifically, strudel and sachertorte.
Austrian strudel can be both sweet and savory, and we tried a variety at Cafe Kroll. Apfelstrudel is, of course, the most traditional, layers of flakey pastry crust and jammy apple filling, but we also ate a plum-poppyseed strudel, a potato and herb strudel, and a chicken curry strudel. Honestly, wrap anything in buttery or carb-y crust and odds are that I'm going to love it. Empanada, samosa, dumpling, momo, pierogi, gyoza, pizza roll, strudel: I don't discriminate.
Sachertorte is arguably (according to my husband, my father-in-law, and the internet) the most famous of all Austrian desserts. I had never heard of it, but I have a salty tooth, not a sweet one, so lauded desserts aren't my specialty. The cake was saved for our last day, and we almost missed out on eating it (the horror!). Sunday morning, we tried to get brunch at The Breakfast Club, the seemingly coolest of cool Innsbruck brunch spot that serves eggs by day, cocktails by night.
As per usual, we didn't make reservations and even though we finally found two spots at the bar, realized pretty quickly that eating here would be a 2+ hour time commitment (there was literally one person taking orders and one sleepy-looking girl flipping the omelets). So, we turned lemons into lemonade, and went back to the Cafe Kroll for the second time in 24 hours. I got a savory strudel, and Rauanq ordered his sachertorte for breakfast. When in Austria!
Sachertorte is a dense, rich dark chocolate cake, with layers of apricot jam and a thick chocolate ganache as icing, fluffy peaks of whipped cream traditionally served the side. In 1832, Austrian Prince Wenzel von Metternich ordered his personal chef to create a new special dessert for his VIP guests. But the head chef had fallen ill that day, so instead, the task fell to 16-year old Jewish apprentice Franz Sacher, who invented the torte using the minimal ingredients on hand. The rest, as they say, is history.
And finally, Innsbruck is home to some tasty Himalayan food. My theory is that where there are mountains, there will be Nepalese restaurants. Himal is a bustling and warm restaurant that looks small at first glance, but is actually a whole network of tiny cave-like rooms all connected together. We didn't have a reservation and the place was packed, but they managed to seat us quickly (which was lucky, because once I smelled the spices I did not want to leave).
I'm pretty sure that they just found a spare table and sat it the middle of the walkway for us, but it worked. One room had only floor seating in a traditional Nepalese style, and Raunaq was endlessly entertained by the groups who got sat there, and spent their whole meal trying to casually adjust themselves into a comfortable position.
Figlzeit and the mountains
Early spring is a confusing season. It's summer weather with the sun shining one day, snow the next. Flowers bloom, then are covered in frost. Wardrobes seem just as perplexed. It's that odd time of year where on the street, you'll see some people bundled up in Canada Goose down parkas, and others that have completely shed their winter layers and are bolding baring an ankle (sockless!) or a shoulder (sleeveless!).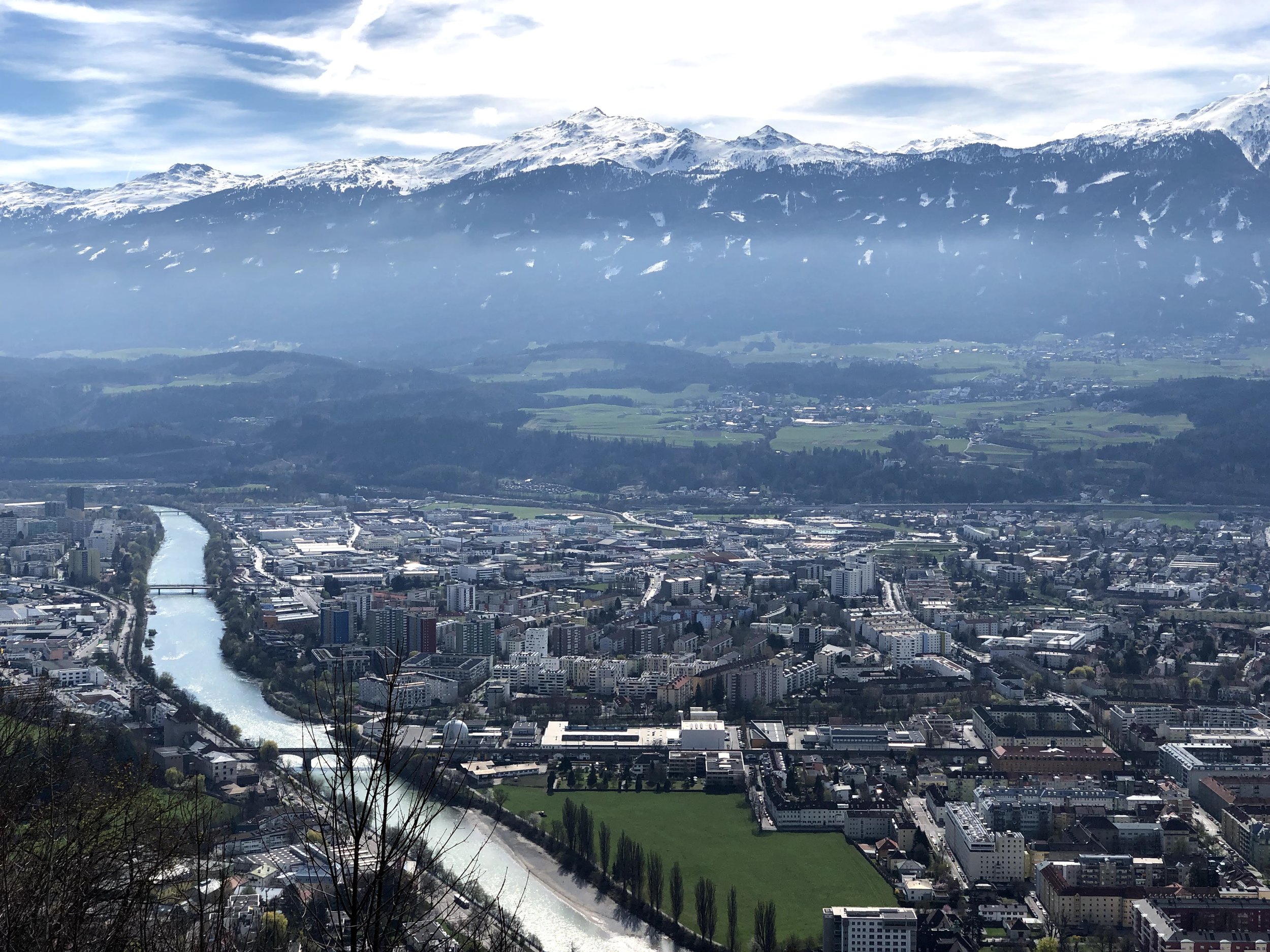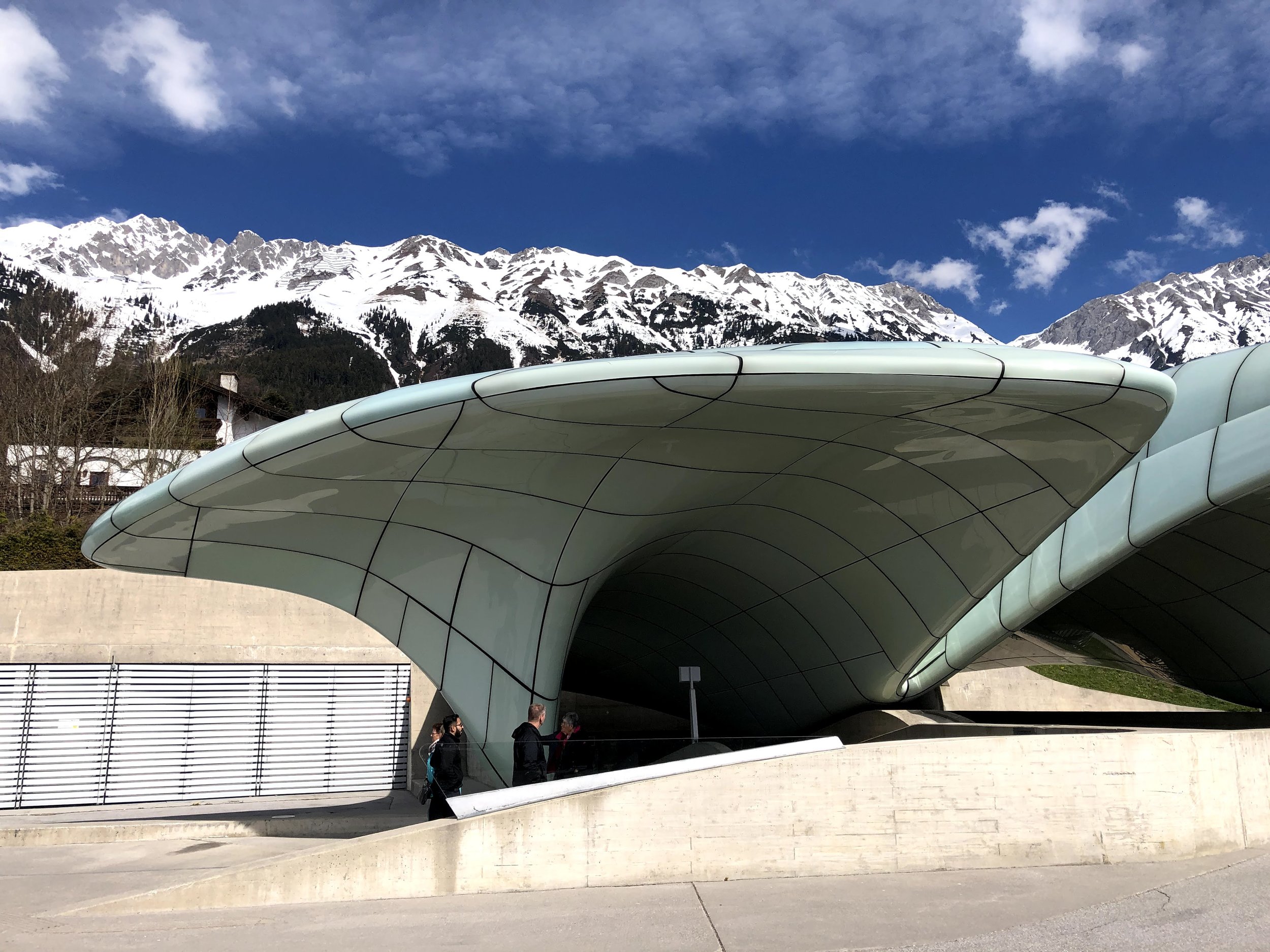 The Alps in early spring are no different. Alpine sports are mashed together, overlapping and stumbling over one another, seemingly as confused as the weather. You have skiers, snowshoers, hikers in caps and t-shirts, paragliders, mountain bikers, all nose to nose in a gondola bound for a mountain summit. And if you find yourself in the Tyrol region in Austria, you have something else, quite possibly the most peculiar of all spring sightings: Figln.
Ok - what is Figln? It's not a typo. As the winter sports season draws shorter in Tyrol, apparently, the skies shrink with it. The Figln is a unique, super-short ski (about ¼ of the length of a regular ski) made of light metal or wood. The word "Figln" is a nickname, taken from the term "firngleiter" (firn glider), "firn" the German term for spring snow. Think of it this way: If a ski and a showshoe had a love child, the result would be the Figln ski.
Innsbruckers, quite opposite from any other skiers I know, anxiously await spring, when snow conditions become soft, slushy, scarce. They are waiting for the time when most ski resorts would close for the season. Because only then is it "Figlzeit," the time for Figln. Terrible conditions for traditional skiing equates great conditions for Figln. It's an incredibly popular sport in this region of Tyrol, and found virtually nowhere else. If all this is starting to sound a bit ridiculous, that's because it's meant to be. From what I could tell, it's not a sport that should be taken all that seriously.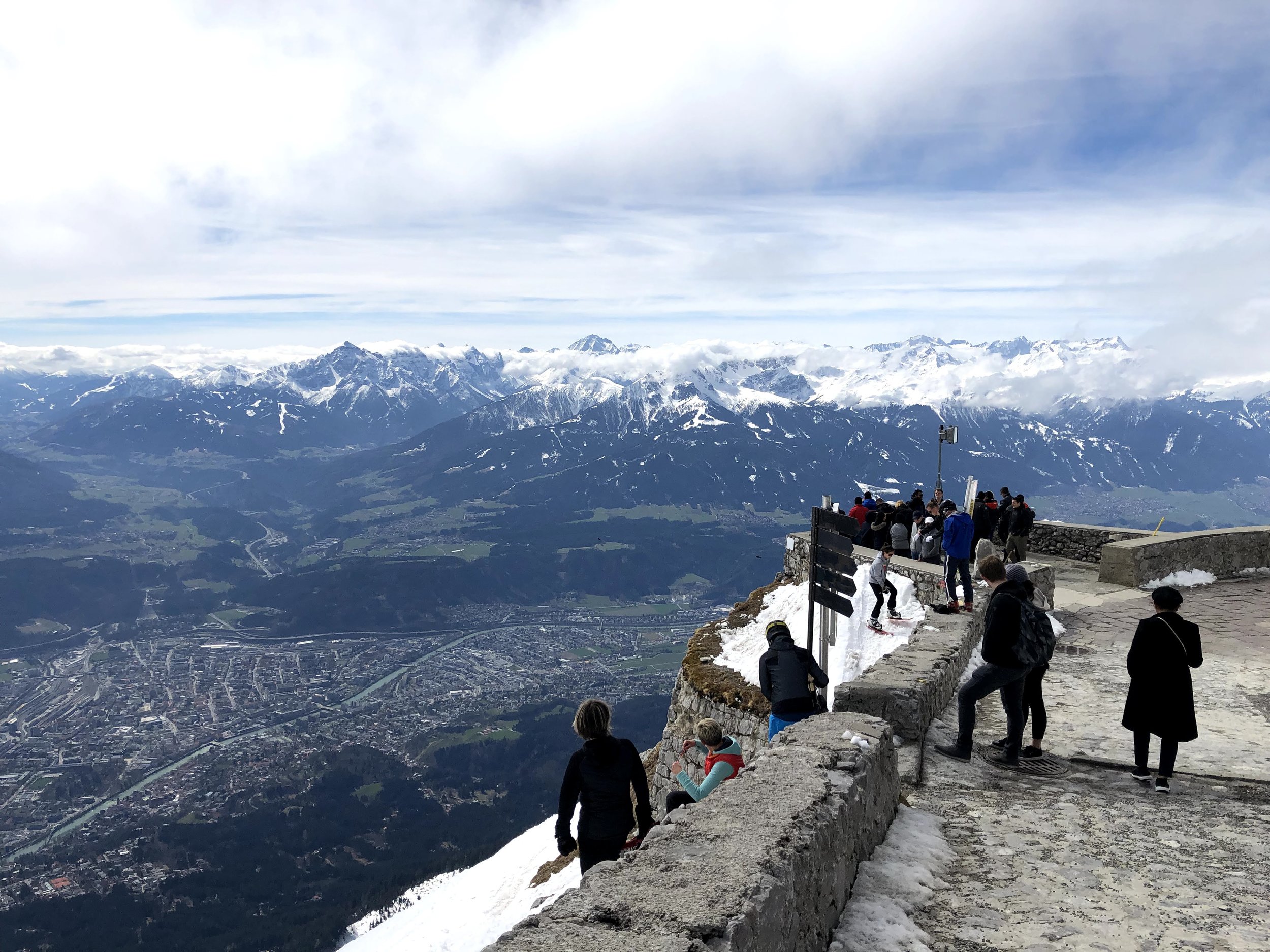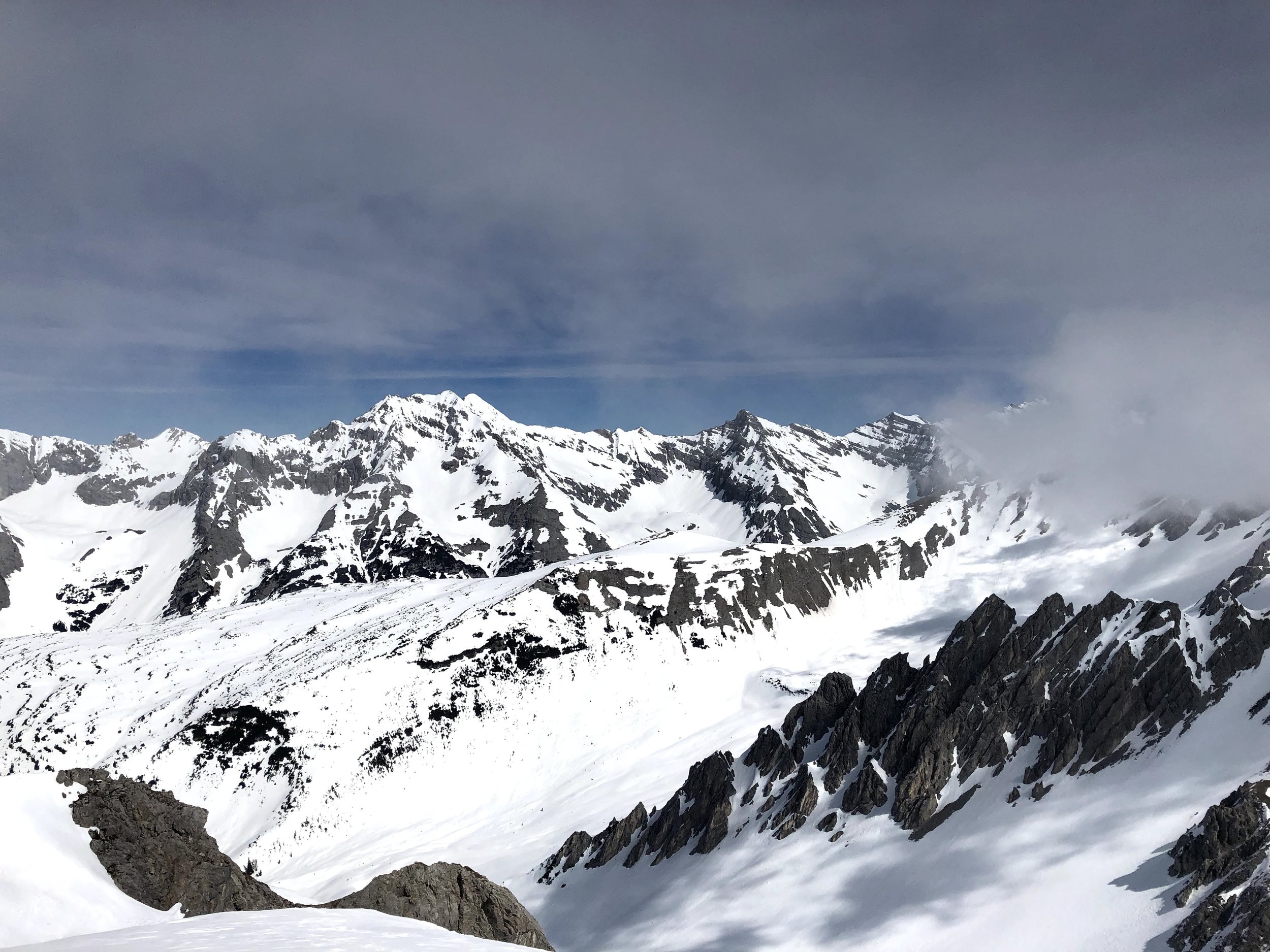 Rauanq and I first noticed these odd skiers on Saturday, in the crowded valley station of the Nordkette Cable Car (Nordkettenbahn), Innsbruck's series of funiculars and gondolas that whisk you from the center of the city to the top of the Nordkette mountains. There were a fair bit of tourists, but mainly, the cable car was packed full of Austrians carrying these funny-looking Figln skis. They are only about two feet long, and easily carried in one hand or strapped to a backpack. Figln season had opened, and we arrived just in time for the celebrations.
Huge groups boarded the cable car bound for the summit, and it was a motley crew. There were teenagers, adults, kids, families with babies and strollers, and what looked like multiple bachelor and bachelorette parties. And most were dressed loudly: neon pink spandex, 1980s-era snow jumpsuits, bright yellow sweatbands, panda onesies, windbreakers with multi colored geometric patterns. The vibe was electric, and even though we were throughly confused, it was impossible to ignore the excitement. It felt a bit like Bay to Breakers, but on top of a mountain and with less nudity (there was still snow, after all, even if it was mostly slush).
Turns out, part of this is specific instructions from the founder of Figln himself, Emo Johann Heinrich, who said you only need a few things for the sport: "Sonnencreme, Augenschutz und eventuell einen farbenfrohen Kleidungsfund aus Papas, Tantes oder Opas Kleiderschrank sind sinnvolle Accessoires." Translation: "All you need is sunscreen, eye protection, and some clothes and accessories from your father, uncle's or grandfathers closets." A helmet also wouldn't be a bad idea, Emo. And with that, welcome to the the best 80s snow party ever.
If the clothes were crazy, Figln skiing was somehow crazier. Through the windows on the gondola from the Hungerburg station to Seegrube (6,250 ft ), you could see lines of Figln skiers below, bumping and tumbling down the slopes. There is no graceful gliding in this spring skiing. To accelerate, you shift your weight forward. For braking, you drive your heels backwards into the soft snow. I couldn't figure out much more of the technique than that, but falling seemed to be half the fun.
I watched one Figler tumble one, two, three, four times in a row, somersaulting over himself in bright orange ski pants before landing triumphantly on a flat pass. Some edged their way into these narrow, waist-high snow chutes, to then slip and slide down the steep tunnel. Another person brought their dog with them down the mountain, who was running and jumping alongside like he was having the best day ever. It was ridiculously laughable to watch. The crazier, the better. I've really never seen anything like it.
It was also *slightly* terrifying. The Nordkette mountains are famous for having some of the steepest ski runs in all of Europe. The slope gradient at the very top of the summit is 70%. 70 PERCENT. That's essentially straight down. A sign hanging in front of the final gondola that shuttles from Seegrube to the very top, Hafelekar (7,401 ft), warned that, among other things, "a fall on these slopes is equal to death." And after looking at the sharp drop-offs, that warning did not seem like an exaggeration. But nobody really seem all that fussed. These Figlners were casually scooting right up to the edge, in these tiny skis, titling forward, and disappearing from sight. Crazy.
A short aside: The Nordkettenbahn website says the full gondola trip takes twenty minutes, but in reality it took about an hour to get from the center of Innsbruck to the top of Hafelekar. Due to the huge amount of Figlers, there were long waiting times at each station (Innsbruck, Hungerburg, and Seegrube). This, of course, resulted in quite a few quips about how the Swiss would have managed this more efficiently. Living in Switzerland really does ruin all other country's public transit for you.
But once Raunaq and I (finally) got up to the top of the mountain, it was all worth it. 360 degree panoramic views of the Austrian Alps that seem to just keep going and going. It's breathtaking. No matter how many Alps you've seen, it's impossible for the landscape to get old. They all manage to look different, but are all equally spectacular. We walked up a short, 10-minute trail from the gondola station to the highest point, Hafelekarspitze, with Innsbruck sprawled out on one side and the majestic Nordkette mountain range on the other. The clouds were wispy, sometimes obscuring the view, but mostly giving the illusion that we were on the ends of the earth.
On the way back down, we bypassed the Hafelekar station restaurant for lunch (although the smell of cheese dumpling soup wafting out of the small cafe was intoxicating) and headed back down to Seegrube. We sat down for beers and thick cut chips, and of course, to watch more of the Figln spectacle. It was one big party.
A city for strolling
If you go to Innsbruck in the early spring, go for the Figln (to partake, or just to watch), not for the hiking. In all honesty, the lower altitude hiking in Innsbruck wasn't that great, most of the foliage looking post-apocalyptic with scrawny dead trees and dry grass. We did, however, find a short trail near Hungerburg that led us to a lovely little mountainside restaurant, with a playground and a large sloping grass lawn perfect for an afternoon snooze in the sunshine.
City strolling, however, is another story. I imagine that Innsbruck is perfect for strolling any time of year - although the springtime felt particularly serene and idyllic. One tree-lined park had a waiting row of horse-drawn carriages. Another park was filled with spring flower blossoms, and it was just quiet enough to hear birdsongs. I'm no bird enthusiast, but, after watching little birds cheerfully flit from cherry blossom to magnolia blossom to daffodil, I could be a convert. The whole scene was positively picturesque.
There are paths on both sides of the Inn River with multiple bridges connecting them, perfect for walking off that sachertorte you had for breakfast and taking in one last view of the river houses and Nordkette mountains before boarding the train back home to Zurich.
Farewell, city nestled in the Alps.
Travel Tips:
It's 36 euro for a roundtrip ticket on the Nordketten gondola, that will take you from the main station in the center of Innsbruck to the top of Hafelekar. It's in three stages: First, you take the funicular from the Congress Talstation to Hungerburg. Then, you walk across the plaza to the next gondola station, which goes to Seegrube. Finally, in the Seegrube station, you take the final ride all the way up to Hafelekar. Each gondola comes about every 15 minutes, so if it is crowded, be prepared to wait a bit at each station.

You can by an Innsbruck card to help cut down on costs a bit. A 24-hour card is 43 euro, and it includes the entire gondola ride and most of the museums and tourists attractions in the city. It's also available in 48 and 72 hour increments, and can be bought in the tourist office.

If you go in early spring, try Figln! If we go back, we would absolutely try it. You might need to have nerves of steel and a sense of adventure, but we saw people of all ages having the time of their lives.