Part 2 - Saluting the Sun: Kvarner Coast and Zadar, Croatia
When deciding on our first vacation since moving to Europe (I know, I know, we do travel quite a bit, but for the most part we are weekend warriors, so this was our first true vacation), Raunaq and I knew that we wanted to go to either Croatia or Montenegro. Originally I was hoping we could fit both, but when we needed to shorten the trip from 3 weeks to down to 2, we ultimately decided to focus on one country only. I don't remember when we officially decided on Croatia - but I do know that once we did, all the hype around the country made me a bit nervous. Yes, we were traveling before the summer crowds, but I had seen and read about cities, beaches, and even large national parks, so packed it felt like Disneyland.
So when we started to roughly plot out our itinerary, we made a few decisions that I think greatly impacted our trip:
We decided to completely skip Dubrovnik.

We started with Istria, which helped dictate the overall route of our itinerary (north —> south).

We spent time in islands further north instead of the more popular ones along the southern Dalmatian coast.
Don't get me wrong, we definitely still went to touristic places, but this first week of the trip felt far less swarmed with people. If not completely "off the beaten track," then maybe we were simply on the road less traveled?
And speaking of roads, I'd also highly recommend renting a car. This was the first foreign country I've ever visited with a car, and truthfully, it was a bit weird in the beginning to not take any forms of public transportation. Local transit is one of my favorite ways to get to know a country, and I thought I'd be missing out, not getting an authentic feel for the flavor of the cities. However - for the purposes of this trip, the flexibility from a car far outweighed not taking any city buses. We were able to visit small towns, find tiny isolated beaches, explore the less-visited sides of Krka National Park, and simply make up a plan as we went without needing to depend on any timetable (besides the car ferries). Plus, the roads are great and we never had a problem with parking.
Lôsinj Island and the Kvarner Coast
Bidding goodbye to Istria was tough. But alas, it was time for us to start heading south, and I can't deny I was incredibly excited for the sunny skies forecasted for precisely the two days we'd be spending on Lôsinj island. And so, Part 2 of the road trip commenced: the Kvarner Coast and Zadar!
The Croatian archipelago has anywhere between 718 - 1200 islands (I've seen a whole range of numbers online and have no idea what the official count is at this point). 47 of them are inhabited, and out of those, each one has something a little different going for them: Pag has its cheese, Krk has its wine, Hvar has its party scene, Brac has its famous Zlatni Rat (we went here! Stay tuned!). But what about the islands of Cres and Lôsinj along the Kvarner Gulf? They have their laidback, languid and undisturbed beauty. I'm going to go ahead and say that if Istria isn't the best-kept secret of Croatia, than maybe Lôsinj is.
We'd seen a lot of the ocean the day before on Kamenjak, but the drive from Pula to the car ferry at Brestova is really when the color of Adriatic blue was cemented in my mind. It's a truer blue than anything I've seen. Remember in my last post when I talked about the blue blue blue of the Adriatic? It's the exact, almost stereotypical, shade that you'd conjure when you think of the sea. That blue you can picture in your minds eye. Blue boiled down to its purest essence. That is the color of this body of water. It was hard to do anything other than stare at it during the entire ferry ride from Brestova to Cres.
The islands of Cres and Lôsinj are generally thought of as one entity, although they are in fact two separate islands (connected by a bridge and divided by a teeny channel of water about 11 meters wide). Both islands are sparsely populated, but Cres, though the larger island by far, is less inhabited. There is meant to be great camping on Cres, which is something I think we will do on our next visit. I watched the vegetation change quickly on the drive from Cres to Lôsinj, from wild Tramuntana forests to exposed grassland and rocky ground.
Kind of like New Zealand, on Cres there are more sheep than locals. The semi-wild Tramuntana sheep of Cres have inhabited the island for 1000 years, first brought over by the Illyrians and became perfectly adapted to the climate. Up until a couple decades ago, the free-ranging sheep population was 100,000, and rearing sheep had been an age-old income source of the Cres farmers. But today, the sheep numbers are under 15,000. Why? The powerful Croatian hunting lobby introduced wild boar onto the island, and things have been changing ever since. Wild boar prey on the sheep and lambs, and the sheep population has been slowing dwindling.
But unfortunately, this isn't the only outcome. Cres is one of the only places in Croatia that is home to the griffon vulture. The vultures didn't have enough sheep carcass to prey on, and so their numbers have diminished. Now, they are an endangered species, and protected and fed by volunteers. We were lucky enough to see one soaring above us on our last day. The vegetation has also been slowly changing, as there is less pastureland needed and new species are encroaching on the native ones.
Damn it, humanity. Whenever I read about this type of thing happening, I always think about how for all of the intelligence of the human species, we so often fail to see how things in the natural world are connected. How we don't seem to understand the impact of a seemingly small change. And even worse, even when we do, how quickly we are willing to trade in the environment for short-term satisfaction or to satisfy the whims of a small powerful group. These are the consequences.
**Whoops, went on a bit of a tangent there that I didn't intend. Now back to regularly scheduled programming.**
Lôsinj, a bit more Mediterranean than Cres, has two main towns: Mali and Veli. The names are a bit of a misnomer. Mali ( the Croatian word for small) is actually the bigger town, while Veli (large) is the smaller one. Rich sea captains from the 19th-century built imposing homes and villas among both towns, mainly around the bays and harbors.
We stayed in Mali, and our apartment host and her little misbehaving puppy were simply the sweetest. She knew we were coming from Zurich and assumed we were Swiss, so she set the TV to the German channel and even had all the little German guides out for us. Now, we all know that my German is bad on a good day, but we did assure her that we were quite Swiss in our love of hiking. She got very excited and pointed out all of the different walking paths in Lôsinj.
Lôsinj is a beach hiker's dream and there are trails all over, but the best are the ones that hug the coastline, like the one we took from Mali Lôsinj to Veli Losinj the afternoon we arrived. It is about a 2 hour walk, longer if you stop at one of the many little blue or emerald coves along the way. The pastel-painted town of Veli Lôsinj gives a unhurried, almost sun-drunk, vibe. Nothing is loud or overwhelming. In the main square, a painting class sat with their easels in the small harbor, and a couple kids ran around with gelato melting in cones. It's so peaceful that sometimes, the dolphins swim right up into the bay.
For our one full day in the island, we had planned to drive back up to Cres to find the mythical St. Ivan's beach, lauded as one of the most beautiful beaches not just on the Kvarner Coast, but in Croatia. It's below the village of Lubenice, accessible only by a tough hike down a steep goat's trail. But honestly - every beach in Croatia is pretty damn beautiful. I think that St. Ivan's is absolutely worth going to in the height of summer, when even the beaches in Lôsinj may be crowded (which I use in the loosest sense of the word, because this island is far from mega-touristy). The steep hike down to the beach and back is probably hard enough to keep most crowds away.
But when Raunaq calculated that the driving + hiking time would cut about 4 hours into our day of sunshine, we changed our mind and decided on a beachy area just a 10 minutes away from our apartment. There is a long, leafy promenade that winds from Suncana Uvala (Sunny Bay) all the way to the harbour of Mali Lôsinj. We found an empty quiet cove near Čikat and set up shop for the day. Sunny days had been rare up to this point, and we were learning to appreciate every outdoor minute of the warmer ones.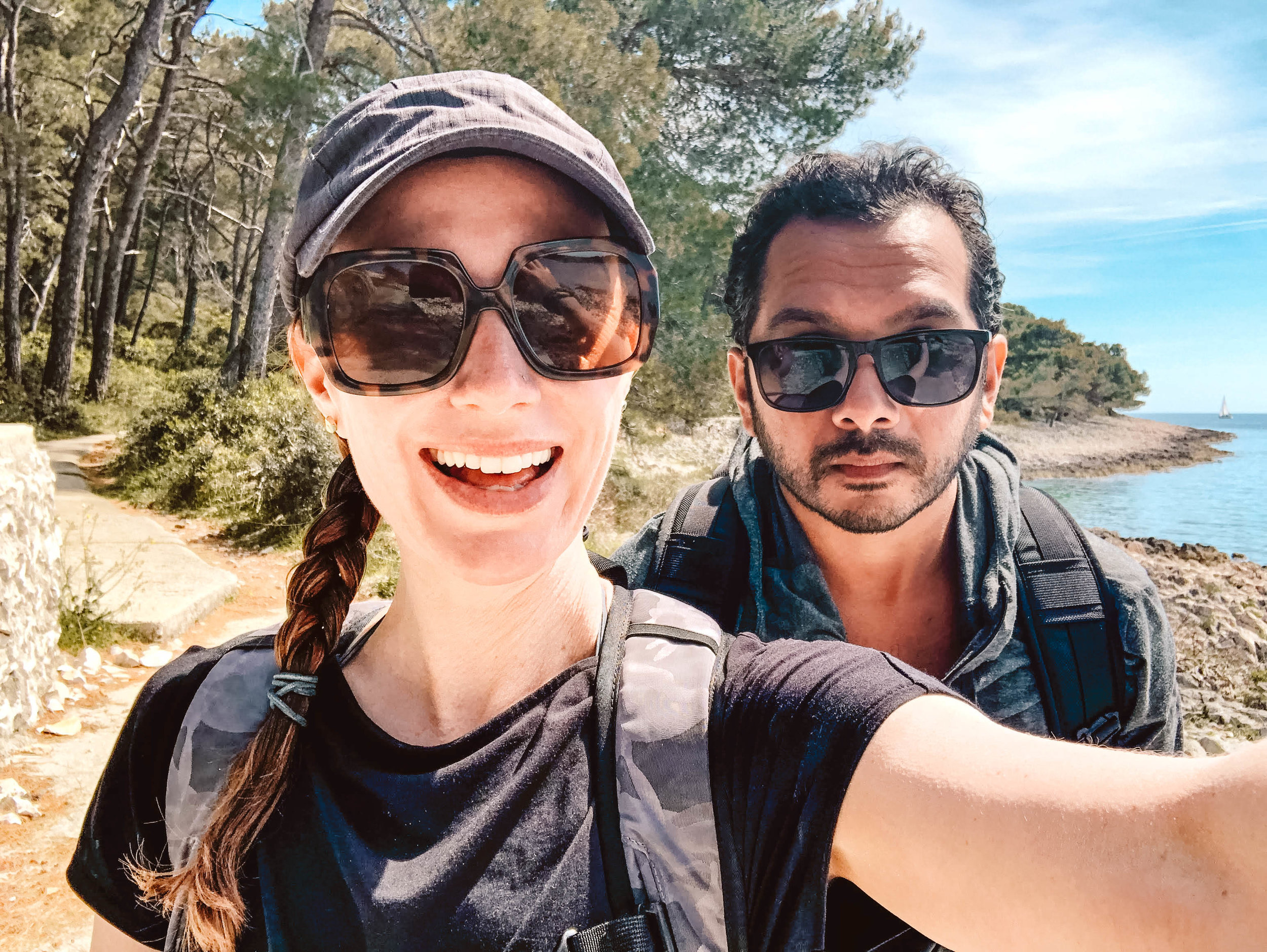 In this little corner of the world, the colors of the water bleed together, each shade deepening in color as it recedes from the shore. It starts almost white, then moves into a bright topaz, with small patches of emerald and malachite, and finally darkening to a deep sapphire. The beaches around Čikat are pebbly, like most beaches in Croatia. If you are lucky, you'll be on a beach with smooth, sun-warmed pebbles, but no matter what, the beach will be rocky. This is not the country for wide, soft sandy beaches.
We both went for a swim, the water crystal-clear and exhilaratingly frigid. My first time in the Adriatic sea was not as warm as I had imagined. The day was sunny, but windy, blowing the heat off of us before it got too hot. Raunaq got the worst sunburn of his life that day. Remember friends, always listen to the ginger when they say to put on sunscreen. We have been kissed by fire (#GoT). We know.
Like Istria, it was very hard to leave Lôsinj. Two days was not nearly enough. It was the type of place where you should stay for a week, and spend everyday reading, hiking and swimming in the sea. Where you come home from a day in the sun, and even after you shower off all the salt and sunscreen, your skin stays warm for hours after. It's a serene little island that seems perpetually caught in that 'just-before-the-frenzy-begins' stage, quietly humming along, with warm beaches and warmer people. I hope we will be back.
Zadar
The drive to Zadar, along the northern Dalmatian coast, was long, windy and beautiful. We stopped at Vrbnik on Krk for lunch, where I had one of the best pasta dishes of the trip, and we loaded up on wine and a spicy homemade olive oil to take home. Another pit stop was the walled Rab Town (on the island of Rab), with its distinctive bell towers and maze of alley streets. I couldn't resist stretching my legs with a climb up the rocky walls. Sandstone makes for such easy climbing!
Late in the evening, we made it to Zadar. This was the first place where we began to experience the "cruise crowds." It was a little be of a shock to the system. Especially after nearly a week of isolated beaches, restaurants where we were the only patrons and could chat with the waiters, and empty streets to stroll - this was different. I definitely don't mean to come across as snobby or highbrow in any way, because of course, we are also tourists. It's just that this was our first big city of the trip, and for the first time, started to understand how overwhelming the big tourists crowds can be. Between the hours of 9am and 3pm, the cruise ships dock and the city streets are swarming. It's hard not to notice it.
The weather was fairly finicky for our three nights here. One day, it was so bad that we needed to pop into two separate cafes on our 40-minute walk home to avoid the sudden downpours. I felt a bit guilty, but that afternoon the only thing I wanted to do was sit in our Airbnb, drink corner store wine and watch Netflix while we waited out the storm. And that's exactly what we did. Along with washing our clothes. Travel isn't always glamorous!
Truthfully, I don't have many specific "sight-seeing" recommendations for Zadar. There was the day it mostly rained, and the next day, when we sat outside by the water for hours in nearby Borik, stubbornly waiting for the clouds to burn off (they finally did!). Sometimes, fortune favors the patient! That's not to say there isn't much do in Zadar. There is! Zadar is rich with museums, Roman ruins, Byzantine architecture, ancient marble streets, restaurants, wine bars, and shops that give the city lots of character. One restaurant we went to had covered portions of the floor with glass, so you could see some of the old Roman city below.
So yes, there are plenty of historic sites to see in Zadar's old town, but my personal favorite was the most modern of all: The Sea Organ and the Sun Salutation. It's a combination of the two best things: public art and nature. Well, more accurately, public art powered by nature.
The Sea Organ is set within a series of stone steps that descend into the ocean. Inside, there is a system of pipes and whistles that "plays" deep, melodious notes as the water flows through. The stronger the waves, the deeper and louder the tones, so when a ferry or yacht sails by, the music swells and sighs with the beat of the water. It's not necessarily beautiful, but meditative and quite hypnotic nonetheless. A bit like a mournful harmonica.
Just a few meters away lies the Sun Salutation (or Monument to the Sun, depending on how you translate). It's a circular ground installation of 300 glass panels that collects the sun's energy by day, and puts on a spectacular light show from sunset to sunrise. Bonus: it also powers the entire lighting system of Zadar's harbor.
It's one of Zadar's main attractions, so it's busy at all times, but most of the crowds and families begin to gather right before sunset. As the light fades, the panels begin the show, subtly at first, and then more intensely the darker it gets. I had Raunaq take a picture of me sitting on the panels, and apparently others were quite impressed with the photo and skills of my Instagram Husband. He was approached by about three different people after to take the same style of picture. I go no credit for my art direction!
The Sun Monument empties pretty quickly once the sun sets, but if you have the time, it's worth it to stay a bit longer. Both installations were designed by the same local architect, and together they use nature's energy to communicate light and sound. It's very cool concept, and I love that it's free for everyone to enjoy.
It seems fitting to end this post on the Monument to the Sun. This is so annoying to admit, but I was feeling a bit bummed that it was so much colder and rainier than we had expected. We all want perfect weather when we travel. We want the sun, the warmth, the big clear beautiful skies. And when it's not, it can be frustrating, especially when you let it affect your mood. I think that's normal, but also, important to remember that some things you simply can't control. It was during this section of the trip that I relented and finally embraced the weather. We took full advantage of the sunny days when we could, and accepted the rain as it came. It doesn't mean these rainy days aren't still days to remember, or days to be incredibly grateful to be traveling in the first place. And sometimes, those rainy misadventure days are the most memorable ones. As my mom says, "Here's to downpours, inside-out umbrellas, getting soaked and having the best day ever!"
More about the Great Croatian Road Trip:
Part 1 - Truffles in Tiny Towns: Istria, Croatia
Part 3 - Chasing Waterfalls: Krka and Plitvice National Parks
Itinerary:
Day 5: Pula → Labin → Mali Losinj

Day 6: Mali and Veli Losinj

Day 7: Mali Losinj → Vrbnik → Rab Town → Zadar

Day 8: Zadar

Day 9: Zadar and Borik

Day 10: Zadar → Krka National Park → Split
Eating, Drinking, Sleeping:
Abba Apartments (Mali Losinj) - Within walking distance of downtown Mali and easy access to beaches and lots of hiking/walking trails.

AirBnB (Borik) - There aren't many options to stay in Zadar proper, so most hotels and apartments are in the neighborhing town of Bork.

Papa Bepi (Mali Losinj) - Pizza! Yes, pizza, again. Not as good as Da Sergio in Rovinj, but pretty darn tasty nonetheless.

Bora Bar (near Veli Losinj) - The chef is Italian, and he lurves truffles. So all things truffles are on the menu! Also, the zucchini carpaccio with almonds was divine.

Buffet Porto (Mali Losinj) - Super-fresh seafood and pasta dishes. Friendly staff, nice atmosphere, amazing soundtracks.

Restaurant Nada (Vrbnik) - Their bread, olive oil, wine and pasta is all made in-house and amazing, and they have a rooftop with incredible views. We left with a bottle of wine and olive oil.

Pet Bunara (Zadar) - I was tempted to get the orange wine here (apparently this is a thing now), but the waitress was very nice and recommended I taste it first, ha. Seasonal, unique takes on traditional Croatian food.

Mama Mia! (Zadar) - Pizza! Again. Out of the three so far, this takes 3rd place. Still good, and it was a 5 minute walk from our AirBnB, so it got extra points for convenience! Just try to forgive the terrible name.

Restoran Bruschetta (Zadar) - Have you ever had almond pesto? It's more or less the best thing that's ever happened to my taste buds. Get it here.